It's now been almost 6 weeks since I moved this blog from the Movable Type platform to WordPress. I made the move mainly because I prefer WP. However, I was interested at the time to see if WP performed any better with regards to Google organic search traffic because people always rave about how wonderfully WP can perform in SERPS when used with the Yoast SEO plugin. I must confess that I didn't do much (or any really) optimization when I moved the blog content so I didn't really expect any improvement. And sure enough that's what I saw. No improvement. So what does the WordPress vs Movable Type traffic look like? Here's the Google organic traffic comparison since the migration and the same period prior.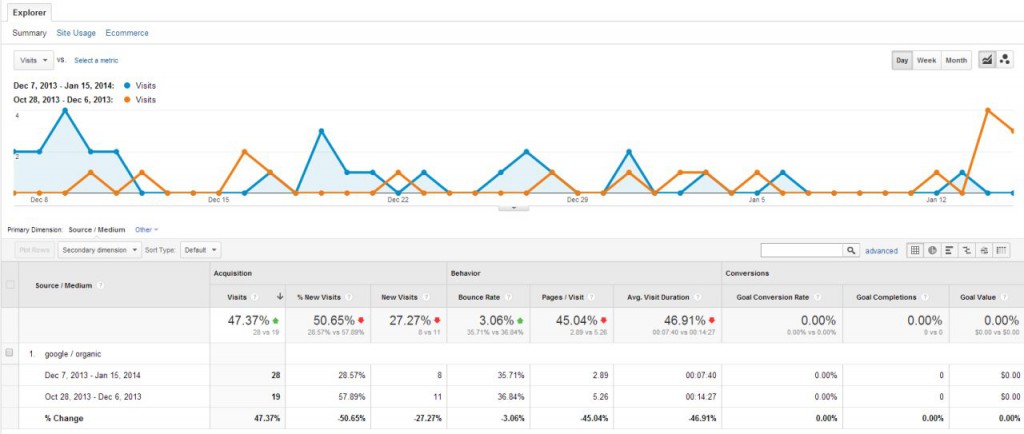 Sure there's a 50% improvement but the actual traffic this blog receives is so pathetic that I'm going to happily call that "noise". Perhaps no-one is interested in what I write (so sad) or perhaps there's a lot more to SEO than on-site factors.
What Next?
I guess as I find time I'll work my way back through older posts and make use of the Yoast SEO plugin a little better. In the past I've generated posts with little (actually no) regard to SEO at all. That's because this blog is really just a little bit of fun for me. There's a learning opportunity though, if I can make this blog perform better in the SERPS just through the use of the WordPress blogging platform and a bit of effort with the Yoast plugin then it may be worth the gargantuan effort of migrating one of my product websites to the same platform. Because of that, I'll have to make sure I find the time to improve my post archive and see what benefits I see over the old Movable Type platform.